New Folder: Multiple Dragon Species
A folder for multiple dragon species and group shots has been frequently requested by our members. We've added in
a new folder
for just this purpose! Now if you have a picture with a wildclaw, coatl, and guardian together, you can put them into the group folder rather than wondering which species folder to choose. We hope you enjoy this new folder. Thank you for all the beautiful artwork and creativity you bring to
Flight Rising!
Registration Window
- Edit: Now Closed! Welcome New Players!
We are happy to announce that Flight Rising will be open for a registration window on Monday, December 15th. Registration will be available at 05:30 Server Time on Monday December 15, and close at 05:30 Server Time on Tuesday, December 16.

We are very excited to open the gates once more and welcome new clans to the world of Flight Rising. Be sure to tell all of your friends! Accounts that you refer award you with free gems when your friend purchases them.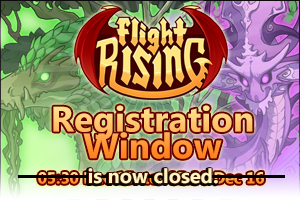 (NOTE: Please remember that Flight Rising's Terms of Use and Multiple Account Policy prohibit registering more than one account per person.)
Flight Rising Social Media
You can follow updates to
Flight Rising
on our main page, as well as the following social media: